Irish politicians urged to lobby Congress over Irish illegals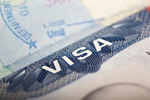 Irish immigration campaigners are urging the Minister for Foreign Affairs and the Deputy Prime Minister to lead a cross-party group to Capitol Hill on behalf of Irish illegals in the US.
An estimated 50,000 undocumented Irish nationals are living in the USA and their status is causing concern amongst home country campaigners for US immigration reform. Last week, a planned lobbying visit by cross-party Irish politicians to Washington was cancelled after deputy leader Eamon Gilmore announced his own plans to lobby the same House of Representatives senators.
President of the Irish Lobby for Immigration Reform Ciaran Staunton told the media that the organisation had always preferred Irish politicians to arrive en bloc, not as sole representatives of individual political parties. According to Staunton, the majority Republican senators will be deciding which way to vote over the controversial immigration bill during next two weeks.
Gilmore's trip will include meetings with Republican party whip Kevin McCarthy and chairman of the house budget committee Paul Ryan. Also on the list are prominent Republicans Richard Beal and Peter King, conservative Republican Bob Goodlatte, Democrat leader Nancy Pelosi and Democrat immigration reformer Zoe Lofgren.
If the Deputy leader comes, added Staunton, he should bring with him a number of members and senators who have built up their own contacts on the Hill during years of hard work. Mark Daly, senator for Fianna Fail and spokesperson on the Irish overseas, has also urged Gilmore to take a cross-party group with him.
However, a spokesperson for the deputy leader stated there were no plans for the parliamentary committees and Gilmore to travel together, adding it was up to the committees to plan their trips. If passed in the House, the crucial immigration bill will open the path to citizenship for all undocumented Irish in the USA as well as guaranteeing 10,500 US visas to Ireland, thus allowing a further flow of migration.