Australia migrant trends survey points to Asian Century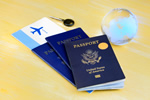 For the first time in Australia's long migrant history, Asia is the leading source of incomers seeking permanent immigration.
The Migration Trends Report, released by Australia's Minister for Immigration and Citizenship, Brendan O'Connor, reveals that, for the first time in the country's history, Asia is the major source continent for migrants. India and China were the main players in 2011- 2012, and six more of the top source nations were located in Asia.
O'Connor also said that, in the years from 1996 to 2011, the number of the country's overseas-born citizens expanded by more than 40 per cent and now stands at six million. This, he added, represents over double the birthrate of the Australian-born population.
According to the minister, skilled migrants are now an essential for Australia's economic development due to the ageing population and its demographic challenges. Patterns of migration, he said, are also changing, with many skilled foreigners applying for the new visas after they arrived in the country on temporary visas, twice the rate seen in pre-2011/2012 reports.
The trend of skilled workers first arriving on temporary visas to investigate what's on offer before making the decision to stay, said O'Connor, is a positive development as regards commitment to the country. He considers the report gives an objective overview of positive changes in immigration patterns which mirror the success of the new visa rules.