UK Tech industry hopes immigration reform includes entrepreneur visas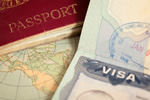 As the push for immigration reform in the USA clears the starting gate, many in the technology industry are hoping that start-ups aren't left at the back of the field.
After initial euphoria over the Senate's Immigration Innovation Act, aimed at addressing the workforce needs of major IT companies, died down, the industry noticed that entrepreneur visas were missing from the proposal. Many experts in the sector are now saying that inclusion of a special start-up visa is necessary.
Major players in the field are convinced that provision of a start-up visa is important as it will encourage talented overseas professionals with innovative ideas to bring them to the USA rather than to other world IT hubs. Worldwide talents in math, engineering, science and technology are needed to create businesses in the US.
However, several proposals now under consideration may well address the issue, as the entrepreneur visa was part of the original presentation by the six-senator committee. According to the presentation, Start-Up Act 2, entrepreneurs working legally in the country would be allowed to set up new businesses, provided funding requirements were met and UK citizens employed.
The Start-Up Act 2 will now be reintroduced in the near future, along with a new act, the Startup Visa Act, which was first introduced last year by Senators John Kerry and Dick Lugar. The bill aims at allowing foreign talents with revenue or US investors to legally start up a business in the US under the visa.