Immigration queues at Heathrow close to being acceptable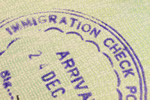 Immigration Minister Damian Green has told the home affairs committee that plans to bring waiting times at passport control at Heathrow Airport to a maximum of 45 minutes remain on track. Mr Green was called in front of the committee after its chairman, Keith Vaz, described the queues he had seen as appalling.
Mr Green said he had visited London's busiest airport earlier in the week and had experienced what he called acceptable waiting times of around an hour. Although Heathrow said it was preparing to go into Olympics mode on Sunday which will mean bringing in 500 extra workers and opening all passport control desks at peak times, some are worried that additional staff will not have adequate training to deal with all of the duties required.
Lucy Moreton, spokeswoman for the Immigration Services Union, said it was unlikely that the workers being employed to deal with the extra travellers passing through the airport during the Games would have any impact on waiting times as they will not have the training to deal with non-EU visitors.
Moreton warned that over-crowding could lead to the public disorder which occurred at Heathrow because of lengthy queue times earlier in the year. She added that although there had not been any incidences of people storming the border there was always the worry that it could happen if people get too frustrated.
Mr Green said that when the Olympics begin all immigration desks will be manned during the busiest times.