Immigration requirements for legally living and working overseas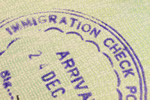 The key to a successful life as an expat is to make sure your chosen country's immigration rules coincide with your own expectations as regards lifestyle.
Whether you're migrating for reasons of work, retiring or planning to start your own business overseas, you'll need to come to grips with unfamiliar visa rules and regulations. Those moving overseas on an assignment don't need to worry, as international companies invariably have knowledgeable immigration experts able to make sure everything is done to make your transition straightforward as well as legal.
Emigrating overseas under your own steam, however, is an entirely different prospect, especially if you've chosen a less-than first world country for your adventure of a lifetime. Given that living and working overseas illegally is a potential disaster often leading to deportation or worse, facing up to dealing with confusing, often seemingly illogical rules and regulations is unavoidable. The comparatively easy way is to work with a local immigration lawyer, an expensive option but often worth it in the long run.
The majority of countries popular with would-be expats provide mostly accurate immigration web pages in the English language, setting up the financial and other requirements for their long-stay visas. If you're going it alone and aren't sure whether you tick all the boxes, a brief visit to your chosen destination including a meet with an already selected immigration expert is the best way forward, as some countries' rules and requirements tend to change regularly with no advance warning. Securing your right to live legally in your chosen location is essential, especially if you're planning to apply for a work permit.
Once you're legally established as an expat, you need to either stay in touch with your immigration lawyer or keep a close eye on your destination country's immigration web pages for changes in visa renewals, financial requirements and suchlike. The recent chaos caused by Trump's sudden travel ban is the perfect illustration of what can go wrong from one day to the next. If you're planning travel outside your new country of residence, it's even more important to stay familiar with re-entry regulations, as these can change even faster than the visa requirements themselves and can also be subject to the whims of immigration staff at airports.