Accidental Americans chased by FATCA may lose British bank accounts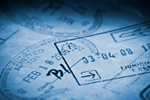 Unaware accidental Americans are still risking closure of their UK bank accounts due to FATCA.
Many thousands of British citizens who were born in the USA but left when they were still young children are now at risk of losing their UK bank accounts due to the US Foreign Account Tax Compliant Act – FATCA. Most of those affected are British citizens and have lived worked and paid tax either in the UK or in expat destinations worldwide throughout their working lives, without giving a thought to the fact they were born overseas. Even so, the US taxman considers these unfortunates as American citizens, even if they left the USA in the arms of their parents.
The majority, whether they're working in the UK or overseas as an expat professional, aren't even aware they may have a huge problem until they find their UK bank accounts are closed due to their inability to provide a US tax number, or when they actually receive a tax demand from the IRS. All foreign banks holding accounts owned by American citizens are forced to report their details to the US taxman to allow cross-checking against tax returns, with huge fines as well as restrictions including bans from US trading if they fail to comply. British citizens born in the USA who now have dual nationality aren't exempt, even although they may have never returned to the country since their birth.
Thousands of those affected haven't even heard of FATCA or its effect on their lives and finances, with around half a million now living as expats in Europe and around 40,000 in the UK. Perhaps the only positive to this overall negative is the fact that Boris Johnson, born in the USA but resident in the UK since he was five years old, was forced to pay US taxes on his capital gains from selling his London home. Recently, one Labour MP asked Johnson to step in over a case in which a British citizen was born in the USA but left when he was just 10 weeks old. It's not yet reported whether or not the new British Prime Minister stepped up to help.