Three-fold increase in illegal migrants arriving in Greece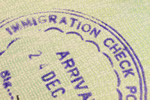 On Thursday, the Greek coast guard announced that during the first three months of 2015, the amount of illegal migrants arriving by sea in Greece has tripled.
Some 2,863 migrants arrived during the same period last year compared to the 10,445 which has arrived this year.
Islands near Turkey in eastern Greece are the main embarkment point for the boats smuggling people and this area saw 6,493 migrants arrive just in March alone.
The island of Mytilene had the most arrivals, which was then followed by islands such as Chios, Samos and Leros.
Some 200 migrants were rescued off the isolated island of Gavdos on Thursday.
The migrants, who are mainly from north Africa, pay smugglers to get them into European countries using a variety of routes. The overladen vessels which carry the desperate migrants are dangerous and cause numerous fatalities.
Dimitris Avramopoulos, the EU's commissioner for migration, said that the current asylum system was worrying the European Union and that the policy which makes the first country to receive the migrants responsible had to change.
The Italian Prime Minister, Matteo Renzi, said that the root of the problem should be addressed such as the current civil war in Libya which is causing the increase in illegal migration. He added that Europe should act together to tackle to issue rather than leaving countries like Malta and Italy to fend for themselves.