Extra stamp duty increase on buy to let is bad news for expat investors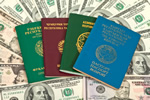 If your expat retirement strategy is based on buy-to-let income, yesterday's 2020 budget may not be great news.
Nowadays, many would-be expats planning their overseas retirement base their investment income on British buy-to-let revenues, with the long term appreciation in house prices an added bonus. Buying and letting out a property in the home country is now seen as a foolproof way to supplement the meagre British state pension, thus avoiding falling prey to dodgy IFAs in their new country of residence.
Unfortunately, the UK's new Chancellor, Rishi Sunak, has expat property investors in his sights via a two per cent stamp duty surcharge on non-UK tax-resident investors. This new charge had been widely anticipated, with many expecting a three per cent surcharge as promised in last year's Conservative manifesto at the time of the general election. Speculators believe the reduction of one per cent was intended to appease speculators in the UK prime real estate market who'd already made their feelings known about any extra charges.
Whatever its origins and the good intentions behind it, the new charge won't please those would-be expats simply attempting to get a good, relatively risk-free return for their savings, especially as it's on top of the existing stamp duty of three per cent on second homes as well as buy-to-let purchases. The new charge, applicable from April 2021, only applies to homes located in England and is expected to raise the most revenue from London and southeastern properties. Whatever effect the charge has on property prices at the lower end, it may well minimise the attraction of buy-to-let income for British expats living overseas.