British retirees keen to emigrate, financial vehicles encouraging move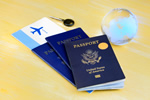 An increasing number of British retirees are considering moving abroad, with overseas pension schemes proving popular.
Some 59 per cent of Brits in the 50-plus age group are now thinking about relocating abroad when they retire compared to 49 per cent in 2013, according to a survey carried out by multi-national company DeVere, which said that financial vehicles such as QROPS (Qualifying Recognised Overseas Pension Scheme) are encouraging the move.
The top five countries retirees are keen on are Spain, France, Australia, Thailand and the US, while factors driving Brits away from their homes include the impending care crisis, the pensions' savings crisis, low interest rates, high taxes, cost of living and the removal of certain age-related benefits.
Many Brits now feel they need to move overseas to maintain the same kind of lifestyle in the future, according to the founder and chief executive of DeVere, Nigel Green, who explained that better weather and a higher quality of life were just two factors driving the move. He added that expats will enjoy lower taxes, a lower cost of living and pension-related financial vehicles that can be beneficial in the long run.
The firm also found in a similar survey that Hong Kong, Dubai, Tokyo, Shanghai, Johannesburg and Abu Dhabi were the most attractive locations for professionals under the age of 40.