Italian coastguard rescues more than 200 migrants fleeing Libya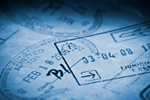 The Italian coastguard has revealed that it carried out a huge operation on Sunday to rescue over 2,000 migrants who were in trouble in the waters between Libya and the island of Lampedusa.
The rescue operation came just hours after Italy announced that it was evacuating all its embassy employees in Libya and suspending operations in the war-torn North African country, citing the worsening security situation.
Italian media reported that 2,164 migrants sailing from Libya were rescued from about a dozen boats. By Sunday evening, more than 500 of them were safely aboard a navy ship, while a further 900 were picked up by boats belonging to the coastguard and customs police. The remainder were rescued by other vessels stationed in the area.
Italy's transport ministry revealed that several coastguard workers were threatened by four men wielding Kalashnikovs during the rescue operation. It said that the armed men approached them in a speedboat from the direction of the Libyan coast and demanded that one of the boats that had been carrying migrants was returned to them.
Last year, over 3,200 migrants are believed to have died while making the treacherous crossing from North Africa to Italy. The United Nations has claimed the Mediterranean route is the world's most dangerous sea crossing.