Italian diet and laid-back lifestyle keeps expats healthier for longer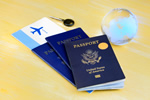 If you're looking for health rather than wealth as an expat, Italy is one of the world's best options.
Italy is best known for its healthy lifestyle and Mediterranean cuisine, making it no surprise that the country came second in the latest Bloomberg survey's global rankings. Spain was the overall winner out of the 169 world economies surveyed, with Iceland, Switzerland, Sweden and Norway also appearing in the top ten.
According to researchers, the famous Mediterranean diet is at least partly responsible for the country's high ranking. Food, wine and family, combined with Italy's famous olive oil and its generally laid-back lifestyle are all contributors to the longevity of Italians as well as the better health enjoyed by the country's older citizens. Studies confirm Italians in general enjoy a significantly lower rate of cardiovascular events than those using a reduced-fat diet, and the country's delicious fruits help avoid the risks of sugar-heavy additions to meals.
For expats heading for either jobs or retirement in Italy, the chance of living healthily for longer must be a major attraction. It has to be admitted that Italy's healthcare landscape is crammed with run-down hospital buildings, newly-qualified doctors trained via books rather than on humans and a low per capita spend by the government on healthcare in general. Italians, it seems, believe their National Health Service is, quite frankly, dysfunctional, but the overall life-expectancy in Italy leads one to believe there's something else in play.
The 'something else' is the fact that Italians are far more healthy in themselves than expats from the USA or the UK in every disease sector from obesity through cancer, diabetes, disabilities, infant mortality and a good few other fatal diseases. Would-be expats might not realise that Italian healthcare is free for all as it's funded by tax revenues and modelled on the British NHS. Even for expats who'd rather go private, costs are kept at a level which puts the equivalents in the UK and USA to shame. Hard bargaining is permitted – this is Italy, after all – and emergency care is free for serious and life-threatening conditions.
For older expats looking for a forever home, Italy ticks all the boxes necessary for the perfect retirement destination, and for those looking for a laid-back alternative to their country of origin it's also a great choice, especially for those with families. For US expatriates, the country can be an eye-opener for eating to live rather than living to eat, with good health into older age the result.