Swiss immigration restrictions set to curb EU migration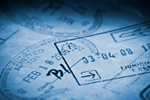 The Swiss government is to introduce a law that will restrict EU migration in a move that could see the country at loggerheads with the EU.
A bill, published on Wednesday, would include a regulations stating that there will be quotas on foreign workers in the country for over four months as of February 2017, while Swiss residents will be given priority when it comes to recruitment.
The bill, which was backed in a referendum in February last year, would require companies to prove that no local workers were qualified for a job prior to a work permit being granted to a foreign national.
The referendum in 2014 saw a narrow majority of people vote that immigration quotas should be introduced for EU citizens as of 2017. However, the move contradicts the EU's free movement agreement, of which Switzerland is a part of, and could lead to discontent between the two parties.
The Swiss government, which did not support the restrictions of EU migration, is likely to have to respond to major questions from the European Commission, which has previously insisted that restrictions on free movement were "non-negotiable".
Although many Swiss backed restrictions, the Alpine country is heavily dependent on foreign workers, particularly in the pharmaceutical and financial sectors, to drive the economy. Up to 70,000 EU citizens emigrate to the country each year, while nearly a quarter of its eight million population are not
Swiss.
Furthermore, 230,000 EU citizens cross into Switzerland on a daily basis for work.