More Central Americans emigrate to US than any other group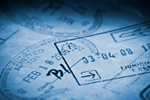 Central Americans have moved ahead of Mexicans as the largest population of people to emigrate to the US.
For the first time ever, US Border Control detained more non-Mexicans than Mexicans in 2014, revealed a study published by the Pew Research Center. A record low 230,000 Mexicans were arrested at the border last year, similar to the figure recorded in 1970 and well below the 809,000 apprehended in 2007.
However, the number of non-Mexicans attempting to cross the border has been rising in recent years. Researchers claim the increase can be linked to the unaccompanied youth from most-war Central American countries, with 52,000 children apprehended at the border in 2014 – two times the figure recorded in 2013.
Another study released earlier in the year showed that poverty and violence were the main reasons children were leaving Central America. But the numbers represent a wider ongoing shift in the migration pattern to the US. The wave from Mexico dominated from the 1980s until 2008, but in recent years the migrants flocking from Central America, the Caribbean and Asia have made up the larger proportion.
The researchers also stated that although the US has invested considerably on border control and migration is on a downward curve, the government continues to put more emphasis on border security, with a 16 per cent rise in the number of Mexican and non-Mexicans arrested by Border Patrol in 2014 compared to 2013.