British in Italy expat campaign group clarifies Britons' 2020 rights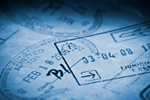 If you're in the throes of a move to Italy, which rights will you be able to keep post-Brexit and which will you lose?
The shock of last week's UK general election is now reverberating amongst Europe's British expat community, with no-one sure exactly what it will mean for them but reasonably certain it won't be good news. The February 1 leaving date doesn't mean it's all over, but pundits are convinced just one year won't be nearly enough to rearrange the British position as regards trade, immigration and host of other issues.
Those Britons who're now living in Europe may well be able to continue with free movement for a year, giving many of those who're desperate to leave the UK enough time to complete a permanent move. According to citizens rights' group British in Italy, a no-deal exit is now the most unlikely scenario, thus offering a small taste of common sense for UK expats already in the country. Apparently, the Citizens' Rights section of Theresa May's agreement has remained unchanged by the election result, and is due to form the hub of an post-January agreement for existing expats.
Put succinctly, this means all British expats already in EU member states will see no changes until at least the beginning of 2021, providing Boris Johnson keeps his side of the bargain. For UK expats living in Italy on that date, unless an unlikely further extension is agreed, Part 2 of the withdrawal agreement protects their existing rights with the exception of freedom of movement across the Eurozone. This exception will cause huge problems for expats working or studying in Italy, as well as for retired expats already resident.
In addition, there are issues with the important right to freely return to the UK with non-British spouses and children, as this is not preserved in May's withdrawal agreement. Even so, Britons who're legally living in Italy will keep the rights to remain, run a business, work, get healthcare and, importantly, have their professional qualifications recognised. Social security if applicable and aggregation of pension contributions are also expected to be covered during the transition period.
Given the complications of the above, it's now essential that a clear, easy to implement statement be issued, describing in full the means by which UK expats' withdrawal rights will be protected by the Italian government during the year-long transition period. Time dictates this document should be drawn up and issued within the next seven weeks.