New Chiang Mai Search and Rescue group aims to help vulnerable expats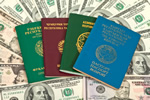 As the level of coronavirus infections in Thailand increases, expats living in the northern city of Chiang Mai are coming together to organise support systems for the most vulnerable.
According to British Consul Ben Svasti, the new and appropriately named Chiang Mai Search and Rescue effort is now working with long-established Lanna Care Net as well as the Gymkhana Club to provide help and support systems for the most vulnerable expats in the city. Founder and Canadian expat Robert King told local media the group needs as many volunteers as they can muster in order to be able to support those in need at the present time and prepare for a possible civil emergency should the pandemic tighten its grip on the city.
Robert is basing the group's activities on his experience in Canada as a volunteer paramedic, team leader and tracker and is fully aware the city and its occupants may well be heading into uncharted waters. The majority of Chiang Mai's expat community is older, and many are within the danger zone age-wise, especially if they've health issues as well and are isolated from the mainstream expat scene as a result. His call for volunteers has resulted in 20 offers in the 48 hours since his Facebook page was launched, and the positive replies keep coming.
One expat lady volunteer is happy to care for pets if their owners aren't able to do so, and several expat biker groups have offered their services for delivery of medical supplies, food and other necessities. Two expatriate doctors have already volunteered, and the Facebook page is urging those who're at home alone, feeling vulnerable or panicky to contact the group and let it know where they are and how they can get help. The Thai community has its own, strong social safety net, but foreign residents in the city mostly lack the support they need as there's no multinational organisation or group which caters for their needs no matter what their income.
According to Robert, it's essential that expats in Chiang Mai and their social organisations join together to support those who're most vulnerable to the effects of both the pandemic and local government responses to the current emergency. For those interesting in volunteering, as well as those who need help right now, contact is via cmsarteam+team@gmail.com