Irish couple claim bank repayment demand forced New Zealand emigration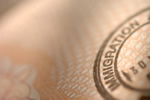 A couple from the Republic of Ireland who recently emigrated to New Zealand claimed in the Irish High Court that Ulster Bank's unlawful demand for a loan repayment had forced them to leave the country.
The couple, formerly residents of Rathdowney in County Laois, had emigrated to New Zealand rather than repay a loan of over a million euros made to them by Ulster Bank. The loan, they told the court, was for property developments and the purchase of a local house, and was taken out in 2004 and extended in 2006.
Sean and Pauline Fortune claimed that, after their development plans fell through due to delays in planning permission, they were unable to meet the payment schedule agreed with the bank. They offered to deal with the debt by handing over the deeds of the land purchased for the development to the bank, plus selling a section of the land including a small dwelling.
The couple told the court that they had also sold their own property and handed over the money to the bank. By 2011, the bank had grown tired of waiting, and took them to court for the money, but the case was struck out.
Subsequently, the bank appealed, but the couple accused it of making an unlawful demand due to incomplete paperwork with details inconsistent with the original agreements. Unfortunately for them, the judge found in the bank's favour, and seemed unimpressed by the couple's complaint that the bank's actions had forced them to emigrate to the other side of the world.