Quarantined expats in China forced to accept surveillance cameras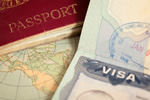 Are Western expats living and working in China as welcome as they believed?
Recent reports of expat life in China have been overwhelmingly positive as regards support from local authorities, friendly locals, close communities and the lifestyle itself, but expats are now beginning to wonder if the pandemic has brought in racial prejudice as well as sickness and death. As seen in difficult times all across the world, racial prejudice can be spurred by economic hardship and fear as well as by a seeming threat to social cohesion.
Given that the pandemic fits this description, expat communities in various countries are beginning to feel unwanted at the very least. In China, however, formerly settled expatriates are beginning to feel they may not be as welcome as they believed. Recently in Beijing, one Irish expat and his family had just started their 14-day quarantine after having returned from a trip to Southern China. To his surprise, the following morning he found a workman fitting a surveillance camera just outside his door, with the lens pointing straight at him. Obviously, he didn't say much at the time, but he's now unsure whether this is legal as it's a huge invasion of privacy.
Officially, there's been no announcement that such surveillance devices are mandatory for those under quarantine, be they Chinese citizens or expats. However, it now seems this has been the norm all over China ever since last February, and has been the subject of discussion on expat-aimed social media platforms as well as in an a feature by a CNN reporter. Surveillance cameras are the norm all over Chinese public places, with over 20 million now surveying even more millions of Chinese going about their business in the massive cities, but installing them outside expats' doors is another matter for those affected. However, mentioning that a good number of unfortunates have been forced to have them installed inside their apartments doesn't exactly ease expat minds.
One official in Nanjing told the media those under quarantine must be under surveillance 24/7 to ensure they don't leave their homes, with the cameras increasing work efficiency and saving money. Some expats are simply accepting the intrusion into their private lives as it's clearly for the public good as regards controlling the spread of the virus, but others consider it's simply a step too far and could lead to racial prejudice. As yet, no expats have been forced to have one installed inside their homes, but the practice seems to be not uncommon in the Chinese community.