Mother-of-two facing deportation from Canada due to clerical error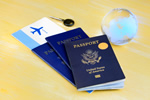 A mother of two married to a Canadian citizen has been arrested and is being threatened with deportation after 14 years living in the country.
Janina Ibarra arrived in Canada from Sri Lanka as a teenager, where she met and married her Canadian husband. The couple have two sons, aged 7 and 10, and have lived in Metro Vancouver since they met and married.
Some 10 years ago, Janina applied for Canadian citizenship, presenting the required documents along with her Sri Lankan passport. However, her passport was lost somewhere between the Canadian immigration office and the Sri Lankan High Commission, and the relatively simple process turned into a decade-long nightmare culminating in her arrest and detention.
The couple did their best to sort out the issue, but the immigration office was less than helpful and, after several years, they eventually gave up on getting any resolution. Their two boys were born and raised, and life went on as normal for almost a decade, until immigration officers arrived last month and arrested Janina in the street outside their house.
In full sight of her neighbours, officers from the Border Service shouted that she was under arrest, read Janina her rights, handcuffed her and body-searched her for concealed weapons. She is now in detention awaiting deportation, and her husband and sons are furiously angry at the way she is being treated.
According to the couple's immigration lawyer Lawrence Wong, a recently-introduced government policy may be the reason for Janina's arrest and detention. The policy was aimed at clearing outstanding cases, but Wong has stated that the wording of the law is unclear and can easily lead to misunderstandings.
Wong is confused over the deportation order, adding that, clearly, Janina hasn't done anything wrong as the initial problem was down to immigration's loss of her passport. He told reporters that it's extremely unlikely that she will be deported, as she has a Canadian husband and children born in the country.