Canada immigration consultants pairing temporary foreign workers with firms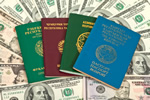 Online advertisements by immigration consultants in Canada are suggesting they can pair would-be temporary workers with employers.
The advertisements, many of which are by consultants in Western Canada's Ontario province, pledge that they will assist those wishing to enter the country under the temporary foreign worker programme in finding employers who need their skills. One such advert claims the company has access to 800 jobs in addition to a list of every Canadian firm looking for temporary workers from overseas.
The sales pitch, also being used via online job agencies, is in breach of standard immigration procedure, in which employers must first offer jobs to Canadians before opening the positions to overseas workers. Using a bank of foreign labour to fill vacant posts is against the spirit of the visa programme, if not the law itself.
Companies with vacancies must place the positions on the federal government's job bank site, and are also required to prove they've made efforts to employ locals. Only if no local applicant is suitable may they then apply for temporary foreign labour to fill the posts.
Employment minister Jason Kenney, himself a former immigration minister, is unhappy about the development, and has vowed to crack down on any immigration advisory company operating the scheme. He considers it a blatant abuse of the temporary foreign worker programme, and a raft of new rules is expected in the near future as a result.