Thailand to offer tax cuts and perks to incoming foreign companies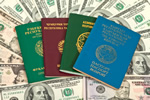 Thailand is to adopt measures to attract more international companies and investment by easing regulations for expat professionals wishing to do business in the Kingdom.
The new rules are an attempt to boost Thailand as an international business hub by introducing a raft of measures aimed at making it easier to create jobs and bring in investment, especially in the high-tech sector. The package, to be known as 'Thailand Plus', will make living and working in Thailand easier for expat employees of international companies as regards obtaining work permits and long-stay visas. Recent reports disclose Thailand is lagging behind its neighbours on incoming investment by overseas companies, with Vietnam last year generating 47 per cent more than the Kingdom and Indonesia taking in 109 per cent more.
A part of the new package is expected to be an up to 50 per cent corporate tax cut in return for investments of one billion baht or more within the next two years, with smaller cuts applied to less generous investments. For companies setting up advanced training facilities or businesses linked to education, increased incentives as well as direct financial assistance will be offered. Targets for the new tax and other breaks include top tech companies such as Huawei, Microsoft, Google and IBM. At the present time, industry confidence in the Kingdom is at its lowest since the beginning of 2018, with a number of firms now experiencing cash flow issues.
Whether the new tax breaks and other incentives will be enough to lure mega-businesses to Thailand remains to be seen, as recent surveys cite the present political situation as being less than conducive to viable business plans. In recent months, the country has received a deal of bad publicity linked to certain government decisions, and the ongoing trade war between China and the USA is also affecting Thai businesses. As regards expat professionals, many who took part in the latest survey mentioned political instability as well as safety and security as issues making their lives less comfortable. The over-strong baht may also cause problems for incomers paid in their home country's currency.