Immigration reform delay affecting techies looking to USA work visas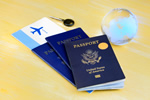 The continuing delay in agreement over America's controversial immigration reform bill is hitting on highly skilled workers wishing to emigrate to the USA as well as the companies needing their expertise.
Demand for visas in the highly-skilled category soared by 39 per cent over the past year, but the statutory caps have remained static due to the delay in the bill. Employers desperate for skilled staff in the technology, science and engineering fields are looking to hire, particularly as many new foreign applicants have studied at prestigious American universities and are familiar with how the US works.
Immigration attorneys are seeing the delays in processing as an upcoming disaster, with employers getting even more frustrated. At the beginning of April, US immigration officials began accepting applications for the 85,000 visa quota for entry in 2015 and, by 10 April, no less than 172,500 petitions had been lodged.
This year is the second in a row that applications have far exceeded available visas almost immediately after the quota was opened. Jeremy Robbins, director of New York's Partnership for a New American Economy, told the media that the cap on skilled worker visas was holding the country and its technology businesses back.
Robbins explained that the US economy is increasingly part of the global economy, adding that if serious talent isn't allowed in, it will certainly be welcomed elsewhere. Other nations, he said, are already benefiting from highly-skilled employees whose first choice was the USA.
He shows particular concern for talented foreign students who have studied in US universities and are now unable to stay in the country due to the visa caps. It's tough, he said, to lose the innovators of the future to America's competitors because of political wrangling.