Millionaire migration patterns revealed by recent study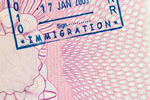 A recent report on the migration patterns of millionaires in the decade following 2003 has revealed that the highest net immigration flow was to the UK.
International consultancy firm New World Wealth's report showed that the net inflow to the UK of high-net worth individuals, defined as those worth $1 million or more, totalled 144,100. The majority arrived from China, India and Europe, although migrants from Russia, Africa and the Middle East also featured in the study.
The UK's inflow was far higher than that of Singapore, which experienced a 45,000 net inflow, with most migrants coming from China, Indonesia, Europe and India. In third place as regards net inflows was the USA, once the destination of choice, but now admitting just 42,400, and Australia's net inflow totalled 22,200.
Hong Kong and the UAE fell to the bottom of the list, admitting 19,700 and 10,000 respectively. The vast majority of incomers to Hong Kong were from mainland China.
China lost some 76,200 millionaires during the ten-year period, mainly to Singapore, Hong Kong and the UK, with London house prices in upscale districts soaring as a result. India's outflow of the seriously wealthy totalled 43,400, most of whom headed for America, Britain or Australia.
Switzerland's declining popularity as a hub for the ultra-rich saw a high number leave to take up residency in the UAE, the UK and Singapore. By December last year, the UK was home to the largest number of US$ millionaires at 339,200, with New York's total set at 300,100 and Tokyo's at 226,500.