Why is emigration such a huge trend in the 21st century?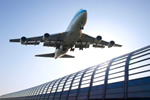 Given that emigration is such a huge trend nowadays, what are the reasons behind its rise?
The reasons behind today's massive increase in the numbers of people leaving their country of birth for a strange land aren't exactly straightforward, but it seems it's a syndrome that's here to stay. Landing in an unfamiliar country hasn't ever been easy, but the dual spurs for this ongoing expat exodus are likely to be the internet and the comparative ease of travelling across half the world. Perhaps another is that the human race is programmed to move on, to improve its chances and to make its lives matter.
One major reason is the search for better employment opportunities with higher salaries, a choice which wasn't available to the masses before the advent of air transportation. Many would-be expats whose careers have stalled at home are more than happy to find a position overseas, no matter how tricky the actual move may be. Along with the vast increase in the numbers of professionals moving abroad for work purposes, there's also an increase in the numbers of international students choosing top-class overseas universities, many of whom may never return home as they're happy to develop their careers in their adopted countries once they've graduated.
Another reason for emigration is the challenge of moving outside your comfort zone by becoming an expat and embracing new experiences as they come. Dealing with challenges in an unfamiliar land isn't easy but gives increased confidence as a bonus, allowing expats to deal successfully with situations as they arise at work and in their personal lives. Seeking a more satisfactory lifestyle is the reason for many would-be expats, with a good number heading for countries with warmer weather, stunning natural beauty and far less stress. Another reason is to get away from the current obsession with money, possessions and positions, with living a simple life in rural surroundings still possible in a few developing countries.
Learning about an unfamiliar culture and fitting in with its requirements is the attraction for many younger expats as well as a good number of retirees sick of the commerciality blighting the West. Traditions going back centuries are there to be explored and understood, and learning the local language is good for the mind as well as for communication and making friends. Whatever the reason for leaving the country of birth, it's an amazing experience as regards broadening the mind and stimulating the senses as well as discovering your real needs in this life.