Study suggests expat relocations lead to better self-awareness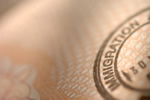 A new study is telling would-be expats that moving overseas is the best decision you'll ever make.
If you're feeling as though you're wading through a vast lake of mud and getting nowhere fast, becoming an expat in a strange land can lead to sharper decision making and a vastly improved sense of self. A study undertaken by social scientists based at an American university found living as an expat overseas sharpens the way you view yourself over time. Benefits obtained by social studies of the phenomenon were considerable and included lower stress levels, better job performance and an increased satisfaction with the new life.
In addition, living outside the home country improved individuals' relationship with themselves, thus enabling them to have better relationships with others. It's not a new concept as it was mentioned by a German philosopher early in the last century, but the research proves its validity in the modern world. Nowadays, relocation is easier than ever before, with almost the entire world open for exploration by modern-day expat professionals as well as retirees looking to change their lifestyles and habits along with their locations.
Another interesting result of the study was that the longer one lives overseas, the greater the self-knowledge. At the present time, well over a million Britons are living overseas, mostly in Europe, many of whom are millennials who'll move jobs or even undertake complete career changes as many as seven times during their working lives. Every change, it seems, adds to self–awareness and confidence even if it's on hold due to the pandemic's lockdowns.