UK immigration advisors favour selling UK residency visas to highest bidders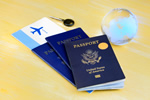 When rumours of a government plan to sell UK visas to the highest bidders first hit the press last year, they were met with incredulous disbelief and anger.
Permanent residency visas giving full rights to settle in the UK are already given to the wealthy under Britain's points-based immigration system. However, the controversial auctioning of residential visas is now to be brought into discussion by the government's official immigration advisors.
Immigration lawyers are already up in arms, saying that the move would create an 'e-Bay culture' for UK permanent residence visas. The proposal suggests that overseas millionaires could be invited to take part in an auction for tier-two or investor visas allowing them and their families to live permanently in the UK.
Another option to be discussed is the granting of permanent residency visas 'bought' by large donations to universities or hospitals. The excuse for the reintroduction of the unpopular initial proposals is that the existing investor route, tier-one, is being used by Chinese, Russian and Middle Eastern families as a cheap way to enter the country.
Applicants for the tier-one visa are not required to be English speakers and are not required to have a job. Many investments made, it seems, have proved to be In the form of government gilts or loans to businesses owned by overseas applicants.
Immigration lawyer Nick Rollason believes the plan would not sit well with the British public, and Sophie Barrett-Browne of Laura Devine Solicitors adds that the auction proposal has already been rightly rejected at government level. She thinks the present suggestions should be seen part of as a requested report on the failure of the tier-one system, adding that wider government policy considerations should preceded any decisions.