Canadian parent and grandparent visa quota full for 2014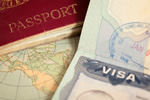 Canadian immigration officials have reported that the popular parent and grandparent immigration stream is now close until next year as its quota of 5,000 applications was reached 33 days after it opened.
The scheme was reintroduced last month after a two year moratorium caused by a huge backlog of applications. Parents and grandparents can still apply for the 10-year, multi-entry supervisa which allows them to spend two years at a time with their loved ones in Canada.
According to immigration minister Chris Alexander, the Canadian government fully supports the wishes of parents and grandparents to spend time with their families overseas. He added that immigration officers would now attempt to clear the massive backlog of applications for the parent and grandparent programme.
A total of 165,000 applications, some made as long ago as eight years, caused the programme to be temporarily suspended, although at present at least half are said to have been cleared. Alexander has promised that Canada's immigration system will be improved in order that families can be reunited more quickly.
The scheme itself is controversial, with some in favour of scrapping it as older people contribute less to the economy and are a burden on the healthcare system. Others maintain that child care allows both parents to be part of Canada's workforce, and point out that many skilled immigrants choose the country due to its support for family reunification.