Female single parents find the expat dream a challenge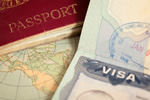 Emigration is a far more complicated issue for female single parents.
Moving overseas is the norm nowadays, whether it's to further a career, start up a new business, become a digital nomad or for retirement in a warmer, cheaper and far more enjoyable location. Endless online blogs, English language newspapers, advisory websites, cost of living comparisons and tales of personal experiences give all the information necessary for what used to be a step in the dark as regards the best places in the known world to settle down.
Unfortunately, for female single parents, there's very little specific advice for women without life partners whose dream is to bring up their child in a different, more friendly and supportive environment overseas. For those still in the UK, even a move across the English Channel to France is a challenge, starting with schooling, healthcare, language difficulties and the cost of essential childcare during school holidays. As a result, many single would-be expat Mums are forced to put their dreams on hold until their kids are old enough to stand on their own two feet.
One single Mum in exactly this situation first moved overseas when her son was four years old after holidaying in France and deciding she wanted to live there. After just one week she'd found a suitable apartment and enrolled her boy in a local playgroup, finally getting a job at a Monaco PR company. After just one year, she and her son were forced to return to the UK as her salary was too small to support them.
Over a decade later, having found a partner and given up on her dream of expat life, her partner was offered a job in Mallorca and the expat experience she'd missed out on became a reality after all the years ensuring her son had his best start in life. The couple made the move to Bendinat, arranged their apartment and returned to the UK to finalise everything, but their May flight back to their new home was suddenly cancelled due to the pandemic. Right now, they're missing their new lives and can't wait to get back and explore the beauty of their new home from home once the lockdowns are ended.