Canadian citizen sponsor accused of fake relationship with husband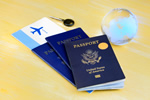 The husband of a former Liberian refugee with Canadian citizenship now living in Winnipeg was refused entry to join his wife as immigration officials decided their long relationship and marriage wasn't genuine.
Martha Cummings-Newray and her present husband, Lindquist, were childhood sweethearts in 1970, and ran away to live together when both were 18 until Martha's father found them, took his daughter home and insisted she marry another man. When the war in Liberia began, the couple fled, living in a refugee camp until, in 1998, her then husband left her.
In 2005, Martha entered Canada as a refugee from the continuing chaos in Liberia, and became a Canadian citizen. To her amazement, in 2006 she received a phone call from her long-lost love, Lindquist, and they married in a Ghana refugee camp in 2008.
When Martha applied to have her husband join her in Canada, her application was refused, as her lack of paperwork proving her relationship with her husband caused immigration officials to judge the application was fraudulent. Martha is appealing against the decision and its implications for her, having managed to get hold of her marriage certificate and other documentation, but can't understand why immigration believe she would attempt to sponsor a man with whom she had no connections.
An official spokesperson for the immigration authority told the press that officers were trained to fully assess all family-based applications. However, a Winnipeg immigration lawyer believes that immigration take little notice of sponsors' judgements, even although spouses have far more knowledge of their relationships than does the Canadian immigration service.