Are UK expats taking foreign citizenship to guard against Brexit effects?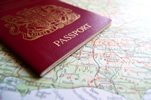 If you're planning a quick exit from the UK due to dire prophecies concerning a no-deal Brexit, is foreign citizenship a part of your strategy?
It seems expat surveys really do have their uses, as recently revealed by the authors of a study aimed at discovering how many expat Brits are planning to formally end their connections with their country of birth. Of course, Brexit is the reason, with over a third of respondents choosing a formal farewell to the UK and a further five per cent determined to seek citizenship should a hard Brexit be the final result. The survey itself, conducted on commission by a popular international money transfer service, compared the views of British expats living in the EU with those of Britons still sticking it out in the home country.
Importantly, the British expats living and working in EU member states most likely to be affected by Brexit as well as in Commonwealth countries were a focus of the study, with over half worried over their post-Brexit citizenship rights in the EU and 50 per cent also concerned about their rights in Commonwealth states. Expatriates are mostly on the leading edge of political change, often due to financial concerns, with their behaviour being seen as a barometer for major changes and increasing trends. Research such as this survey tends to point towards many seeking citizenship simply as a viable option for keeping their lifestyles and finances secure in spite of economic chaos.
Interestingly and as an adjunct to foreign citizenship, the survey revealed some 25 per cent of Britons living in the EU are bracing for a Brexit-generated UK recession by either liquidating UK assets or transferring their money overseas. As regards overseas money transfers, many more expatriates are now aware of the need for transparency as regards fees charged for the service, as well as the reputation of the chosen currency exchange firm. Another sign of expatriate concern about Brexit's effects is that expats are busy paying off unsecured loans, moving investments to low-risk funds and making changes to their retirement plans.