Expat second home owners in Brittany accused of ruining the region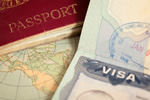 For several decades, British expats have shown a preference for Brittany, buying second homes and planning their retirement in this iconic corner of France.
It has to be said that parts of Brittany could now be described by disgruntled French nationals as 'Little England', as a large number of British expats and second home owners have arrived over the past decades. One group of Breton nationalists have had just about enough and are launching a campaign against what they see as property speculation in the region. Translated into English, the group's name 'Revolt' says it all and addresses the frustration they feel about the effect on house prices and the life of the Breton community.
At present, the group's weapons are posters bearing messages such as 'Brittany is not a second home' and 'villages in ruins, youth in exile', all of which are being attached to empty homes. The first posters were seen in March, attached to a private five-star beachside hotel in Saint Malo, with others now popping up all over Breton towns and other areas favoured by British expats. According to a spokesperson for the group, its aim is to educate elected officials as well as residents that the secondary real estate sector must be regulated.
Another goal is to make local elected officers aware that property price inflation is caused by the region's popularity with affluent expatriate second home owners and isn't as yet being regulated in any way. Some 40 per cent of all the properties strung out along the sea coast are owned by foreigners and left empty for half the year, whilst housing is now inaccessible to French nationals on low incomes. The group is also angry about the dependence on the tourist industry now common in Breton coastal towns which are left lifeless for over half the year. Some towns are worse affected than others, with 72.7 per cent of properties in Carnac, for example, only occupied in the summer season.