Hong Kong and UAE top emigration hubs for global professionals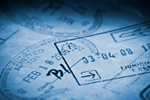 As Asia becomes more popular as a destination for those determined to emigrate, Hong Kong and the United Arab Emirates are highly rated in a global survey of expat professionals.
The results of the Global Professionals on the Move 2013 survey identified Hong Kong and the UAE as the places most likely to attract expat professionals wishing to put down roots rather than just working on short contracts. Both are attracting highly qualified overseas workers drawn by their environmental diversity and quality lifestyles.
Hong Kong, the gateway to China and its unlimited business opportunities, is the world's third most popular location for legal professionals, and the fifth most popular for those in the financial sector. Its growing rivalry with Singapore is attracting top talent in both fields, with many arriving with their families and intending to stay for the long-term.
The buzzing Asian city is looking even more attractive now that the still-popular UAE and Saudi Arabia are moving towards admitting fewer expat professionals in order to free up jobs for local graduates. A much freer, equally high-standard quality of life can be had in Asia, with Hong Kong followed by Singapore as the continent's premier financial centres and business hubs.
The survey also identified the growing Asian trend of employing qualified locals who have international experience in their fields as well as the crucial understanding of Asia's culture and customs necessary for doing serious business. The shifting balance of developing countries in the Far East isn't fully appreciated by many Western professionals looking to emigrate, with top preferences still set in the developed world rather than in faster-growing emerging markets.