Archbishop condemns UK immigration rules for separating British families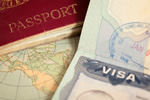 The most senior UK Catholic cleric is accusing the new immigration rules of splitting up British families and forcing children to live with a single parent.
Archbishop of Westminster Vincent Nichols stated, during an extraordinary political intervention, that immigration's financial requirements for UK citizens with non-EU spouses were devastating marriages and forcing children to live with just one parent. The rule, introduced in 2012, states that UK citizens must earn over £18,600 before their non- EU spouses are allowed entry.
In an article published by the Guardian, the Archbishop wrote that the rule is being applied ruthlessly against UK citizens wishing to re-enter the UK with their families. He continued that immigration targets are being inhumanly applied with administration processes stripping applicants of their dignity in an unsavoury manner.
He called support for the family a cornerstone of British life, adding that the victimization displayed by immigration showed how far the country's government had departed from former values and principles. Almost 18,000 families are being broken up each year, with hundreds of children growing up without one of their parents.
Nichols pointed out that EU citizens are allowed to enter the UK with their families without having to prove any income, whilst British families cannot take advantage of the same rights. The income benchmark itself is higher than the legal minimum wage in the UK, with a study suggesting that almost 47 per cent of UK workers would not satisfy the criteria for re entry with a spouse.
The Archbishop's rare intervention in political matters is being seen as a reflection of changes taking place in Rome since the new Pope was elected. Pope Francis's concern for immigrants and refugees has been well noted by students of Catholicism.