Millionaire migrant investors in Quebec soon move elsewhere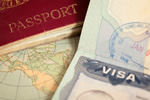 Cracks are beginning to show in Quebec's millionaire immigrant programme as report sshow investors are moving out of the province.
Figures obtained from Canada's Citizenship and Immigration department by an immigration lawyer indicate that, although the original CA$800,000 investments have remained in Quebec, 90 per cent of the wealthy immigrants have moved away. British Columbia is rumoured to be the main destination, and is having to pick up the costs of settlement.
The Quebec immigrant investor programme runs along similar lines to the Canadian federal programme which was discontinued last year, with investors required to show a personal wealth of over CA$1 million as well as the CA$800,000 investment. Applications for permanent residency can be made after five years, and the investment, used for job creation, is returned without interest.
Critics are pointing out that Quebec gets the use of the money but, it seems, doesn't have to provide education, heathcare or subsidised university places to investors and their families as almost all have moved on to other provinces. Immigration minister Chris Alexander has promised his department will investigate the issue.
According to the Minister, immigrants applying under schemes set up by individual provinces make an undertaking to live in that province. He added that federal transfer payments, as a matter of fairness, cannot be sent to one province to benefit a person residing in another province which is bearing the resettlement costs.