New study confirms migrants have difficulty getting jobs in Canada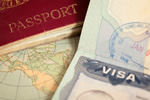 A survey undertaken in Canada's Hamilton region has revealed that language difficulties and lack of work experience in the country is preventing expats form getting jobs.
Research into local firms and their requirements found that, although companies are open to employing incomers from overseas, they rarely do so, preferring nationals with work experience in the country and the region. The study also showed that immigrants aren't able to access informal streams such as word of mouth or local adverts, thus missing out on job opportunities.
The survey noted that, within the next two decades or so, 33 per cent of the country's workforce are expected to have been foreign-born, and that immigrants nowadays account for most of the growth in Canada's labour pool. Without access to the traditional forms of networking, it concludes, migrants have little chance of fulfilling their dreams.
Study leader Sarah Wayland believes it's a sign of the times that employers expect job applicants to be totally work-ready. She adds that the main reason migrants don't get hired is the language problem, but notes that few employers offer language training sessions.
In an attempt to get past the hurdles preventing migrants for becoming employed, Workforce Planning Hamilton and similar agencies are planning a mentoring programme aimed at boosting migrant employment levels. The programme will partner skilled immigrants with professionals in the region who will share job-hunting strategies over four months of weekly meetings.
Mentoring of female immigrants has already proved successful at the St Joseph Immigrant Women's Centre, with those mentored over a period of time mostly now in employment. Nationally, the unemployment rate amongst migrants in mentoring relationships is just 19 per cent against a rate of 73 per cent in immigrants who are forced to go it alone.