New Zealand PM tasks UK government over unfair visa restrictions for Kiwis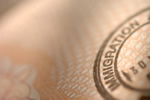 During his official visit to the UK, Kiwi Prime Minister John Key is holding talks with UK government representatives over the difficulties faced by Kiwis wishing to enter Britain.
Mr Key's visit to the UK was prompted by an invitation from Queen Elizabeth to spend a weekend at Balmoral, her Scottish retreat. Whilst in London he held discussions with PM David Cameron, Mayor of London Boris Johnson and Foreign Secretary William Hague.
The conversations ranged around the rights of New Zealanders' to work in the UK, and the subject was at the top of the agenda. Before leaving New Zealand, Key told local media that further erosion of the right to work in Britain wound be grossly unfair given the cultural and historic links between the two countries.
Australians and New Zealanders were allowed to work in the UK until 1973, when Britain joined the European Economic Community. At that point, freedom to work at will was curtailed, and since the cut in immigration numbers promised by Cameron at the last election was intruduced, only 350 Kiwis have been allowed work visas to enter the UK.
Mr Key fears that further cuts in UK immigration numbers may hit even harder on Kiwis wishing to work in Britain. Only last month, London Mayor Boris Johnson stated publicly in the British press that Kiwis and Aussies should be given unconditional freedom to work and live in the UK via a Bilateral Free Labour Mobility Zone.
Mr Johnson said he realised that such a decision might cause problems with the European Union but was heard to say, characteristically, that EU bureaucrats should simply 'stuff it'. Mr Key considers that the bonds and ties between New Zealand and the UK are still strong, but promises to continue to support Kiwis' birthright to work temporarily in the UK for two years according to the present law.