Kiwis call for open door policy for immigrants to the UK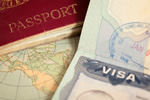 A call by Mayor of London Boris Johnson for UK immigration rules to be relaxed for Commonwealth citizens including New Zealanders has been backed by Kiwis already in the UK.
The mayor's controversial request for an overhaul of immigration rules to include a relaxation of requirements for Australians and Kiwis is being supported by TNT Magazine, the must-read London publication for all antipodean immigrants. The magazine's editor, Carol Driver, believes that hard-working migrants from New Zealand and Australia should be welcome to arrive in the UK and contribute to its economy.
Driver considers it ludicrous that citizens of EU member states can walk in and stay, claiming benefits and taking jobs, whilst immigration rulings continue to penalise would-be migrants from British Commonwealth countries. Mr Johnson's views were made known in a Daily Telegraph report, which stated that the mayor believes that the UK has betrayed its Commonwealth citizens whilst favouring migrants from the EU.
TNT Magazine has featured tales of confiscated passports, guest missing weddings and funerals and migrants just escaping deportation due to wrong advice from immigration officers on extending their visas. A Home Office spokesperson states that the UK values its links with Commonwealth countries and is working to adopt an immigration system which encourages growth by attracting the brightest, the best and the highly skilled.
Immigrants from the UK now living in New Zealand have joined in the debate, saying that getting into and staying in the country is equally difficult, with rules being tightened and deportations due to incorrect advice taking place regularly. A recent example of NZ Immigration deportation fever featured an overweight Belgian chef and his wife who had lived and worked in New Zealand for seven years, only to be told they must leave as the chef's obesity made him a potential drain on the local health services.