Canadian immigration foreign service strike creates more backlogs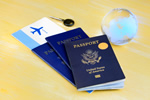 As industrial actions by Canada's foreign service workers drags on, Treasury Board president Tony Clement is running out of time to agree to arbitration.
The selective strike by immigration workers in far-flung locations such as Thailand, China, India, the Philippines and Mexico is now affecting a wide swathe of visa applicants. Tourists are cancelling holidays, foreign students are cancelling courses, and parents visiting their loved ones are replanning their trips to a later date.
Would-be immigrants already hit by a huge backlog of cases are being pushed further down the queue, and even emergency visits by family members are having to be cancelled due to lack of visas. Last week, the trade union representing foreign service workers issues an offer of binding arbitration, but Clements has not yet agreed.
Matthew Conway, Clement's press secretary, said the minister was reviewing the offer, adding that the government's responsibility is to put the interests of taxpayers before all else. In his email to the Star newspaper, he added that the minister would continue to bargain 'in good faith'.
Estimates of travel visa outputs from Chinese, Indian, Mexican and Philippine visa posts are down by 65 per cent since the union shifted the strike's focus to high-volume visa applications including foreign workers, students and tourists. According to union president Tim Edwards, the total number of all types of visas issued has fallen by 25 per cent and the backlog is increasing by 5 per cent every week.
Canada's tourism sector estimates that 33 per cent of emerging market bookings may be lost, at a cost to the country of CA$280 million. Universities and colleges are fighting back with some delaying foreign student registration until next January and others using a visa-tracking system to help overseas students decide their next move.