Canadian public invited to join online consultation on immigration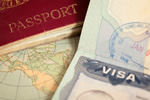 In an unprecedented move, the Canadian public and certain stakeholders have been urged to submit their opinions on immigration to an online consultation website.
The site was launched by Canada's Immigration Minister Jason Kenney on 21 June, and will run until 31 August. Kenney launched the scheme by saying that, due to the importance of immigration to the country's economic prosperity and growth, the Canadian people should also have their say.
During the last decade, Canada has been encouraging immigration on a scale never before seen in order to ensure its ageing population doesn't result in a crucial skills shortage. Canadian businesses have been encouraging increased immigration as they are already feeling the need for skilled workers, especially in the north of the vast country.
Employment sectors seen as stakeholders in Canada's future have been invited to give their views, as have trade unions, the academic sector, professional and business associations, Aboriginal groups, ethnocultural groups and municipal councils. The scheme is expected to raise awareness of the problems of running a global immigration system.
The site was launched against a background of seemingly increased antagonism amongst Canadians towards unchecked immigration. A study carried out earlier this year showed that 40 per cent of those surveyed felt there were too many migrants in the country, 10 per cent less than a similar survey in 1994 and 10 per cent higher than in 2005.
However, the poll also revealed that younger Canadians, those with higher qualification and city dwellers were more likely to accept higher rates of immigration than those in other groups. Since the beginning of this year, Canada's hunt for immigrants has been a high-profile feature at jobs fairs in the UK and Ireland, attracting a high number of applicants.