Australian citizenship denied to Hollywood star Russell Crowe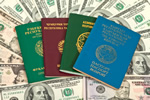 The Academy Award-winning Hollywood star Russell Crowe, once chosen by Australia Post as a local legend, has been rejected as an Australian citizen due to a loophole in immigration law.
New Zealand–born Crowe, famous for his role in Gladiator, fell foul of Australia's changes in the citizenship law as it relates to New Zealand citizens. The law was changed on 26 February 2001, at which time Crowe was in the US attending the BSAFTA Award ceremony, and he had also been out of the country previously for over 12 months whilst making Gladiator and Beautiful Mind.
Because of his absences, he doesn't qualify for permanent citizenship under the New Zealand citizens section of the Family and Community Services Legislation Amendment Act 2001. During an interview earlier this week promoting the new Superman movie, Crowe told reporters he had 'fallen between the cracks'.
His previous attempt to attain permanent citizenship, planned to take place on the Parliament House lawn on Australia Day 2006, also came to nothing due to the Oz immigration office. The ceremony had to be cancelled at the last minute as 'certain protocols' hadn't been adhered to.
Seven years later, those same protocols still seem to be causing problems. According to Crowe, it's complicated and frustrating, and it doesn't just involve him. He told reporters there are many Kiwis who have committed to their Australian lives, had children, bought homes, paid taxes and been productive, but still can't become citizens.
He added that the main reasons for his application are his two sons. However, he's not best pleased that the current refusal means he can't vote in any Australian parliamentary election as only citizens are allowed that privilege.