Netherlands post-Brexit expat residency rights denied by mistake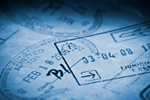 For expats planning to stay in the Netherlands after Brexit, immigration clarification may be needed.
According to a Dutch immigration lawyer, British expats living and working in the Netherlands may have been given incorrect information concerning their post-Brexit residency rights. Immigration attorney Jeremy Bierbach recently filed a complaint with the country's IND immigration office, claiming it's official advice is factually incorrect in that it states British expats must provide evidence of a 'sufficient income'.
The information was linked to the official definition for non-EU citizens in which an income is defined as either a pension or a monthly salary of €1766 per couple. Although the offending link has now been taken away, Bierbach is pushing the actual wording that European in the Netherlands must be 'self supporting' from varied financial resources, simply in order to avoid application for need-based social funds.
A pledge by the Dutch government that, even in the final case of a no-deal Brexit, British expatriates will be entitled to full rights of residence whatever their financial means is being quoted by Bierbach, who told the media the offending website is simply advisory and has no standing in the country's law. The lawyer also stated the inaccurate information seems to suggest an effort to dissuade British expat professionals from moving to or staying in the Netherlands.
At present, records show some 82,900 first and second generation Britons living in the country but monthly incomes aren't shown, although some 11,700 are older than 65 years and could be considered as retirees. According to Dutch news, a spokesperson for the IND has now stated the questionable information was incorrect, with its link from the main page having been placed by accident.