EU member states protest benefit tourism linked to free movement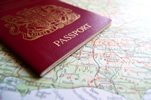 Four EU member states are requesting an EU Justice and Home Affairs Ministry discussion on the problems to their health and social services caused by migrants arriving for free health care and benefits.
Austria, the Netherlands, Germany and the UK are expressing concern over the burden to their social assistance and health services caused by the EU's free movement laws. All claim that immigrants arrive and immediately take advantage of social assistance, often without genuine need.
The four countries are demanding changes to the EU's laws to disallow recently arrived migrants who have never paid taxes in their new country from applying for the same benefits as citizens. They state that the ruling goes beyond common sense, is detrimental to their economies and should be urgently reviewed.
In the meantime, the European Commission on Thursday released its new proposals for simplifying migrants' rights to work across the EU. The gist of the new measures is to set up national contact points for new arrivals to ensure assistance and information is given on the rights of immigrant workers.
Member states will also be forced to allow redress at national level, and NGOs and unions will be allowed to launch judicial or administrative procedures on behalf of immigrants. The European Commission's proposals will be unwelcome, especially to Britain's PM David Cameron, who recently promised stricter controls on immigrant access to benefits, housing and healthcare.