Senators debate huge reduction in family visas as part of immigration reform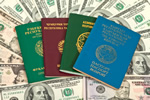 US lawmakers involved in structuring immigration reform are debating plans to severely restrict the number of visas available to relatives of US citizens in order to allow more visas for highly skilled workers.
A bipartisan group of eight key senators is studying the plan, which would overturn policies in place for several generations. The committee of eight has agreed that there needs to be a limit set on the number of migrants per year, but is divided on the make-up of the number.
Traditionally, 65 per cent of visas are granted for reasons of family, with only 14 per cent admitted for employment and the remainder allocated to humanitarian cases. Business leaders and Republicans are in favour of a greater number of highly-skilled migrants to boost the economy, many of whom would fill skill shortages in the technology sector.
Democrats are mostly in favour of promoting family unity, saying it benefits support networks and helps families thrive. Top priority for spouses and younger children is likely to continue, but unmarried children over 21 years of age and married adult children with families are likely to have to show high-tech skills or other qualifications to gain entry.
Although the group insists no final decisions have been arrived at, Senator Lindsey Graham in an interview stated that harsher limits on family visas are on the cards. Graham wants to limit green cards to those who fulfill the US's economic needs, with families set lower down the priority queue.
At present, the family visa programme has over four million people on its waiting list, with immigration advocates angry at the new proposals and their possible effect on a final agreement on broad reforms. However, the group's general principles have the approval of the Obama administration.