Australia reverses immigration ban on autistic daughter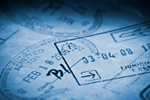 After being refused visas last year for the family, including their severely autistic daughter, Adrian Scott and his wife Julie mounted a vigorous campaign to force the immigration authorities to change their minds.
In 2011, Australian immigration officials denied visas to 13-year old autism victim Niamh Scott, her brother and her parents, who were hoping to join their two adult sons and Mrs Scott's parents in Australia. The application was refused on the grounds that treatment for Niamh's condition would place a cost burden on the Australian community.
However, having noted an improvement in Niamh's well-being when the family visited Julie's parents near Brisbane, Mr and Mrs Scott were not about to give up on the fight and launched an online petition. Over 1,700 people signed the petition, 1,000 of whom were Australian citizens urging that the family should be allowed visas.
Finally, Immigration and Citizenship Minister Chris Bowen was persuaded to use his public interest power to reverse the decision and allow the family entry to the country. The Scotts have now been given visas which allow them to travel to and from Australia as permanent residents for a period of five years, giving them time to sell their house and arrange the move in the best way for Niamh and her 19-year old brother Tevin.
The Scott family will be reunited with the two older sons, Stephen and Mark, both 29, who have been living in Australia for several years, and are hoping to settle near Julie's parents. After the five year visa expires, it will be converted to a Resident Return Visa which allows permanent residence and the freedom to travel abroad.