Baniyas district now a favourite with expats in Abu Dhabi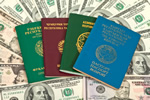 If you're about to relocate to Abu Dhabi and are looking for a home in an affordable, peaceful neighbourhood, Baniyas is a good choice.
Although postings to the Gulf States are considered by many expats as the path to riches and an upscale lifestyle, those who're not quite as fortunate as regards mega-salaries can still live in pleasant, peaceful surroundings if they're prepared for the daily travel to and from the heart of the city. The district of Baniyas is located 42 kms from Abu Dhabi's centre and is surrounded by other popular neighbourhoods including Mohamed bin Zayad City, Shakhbout City and Al Shamka.
Baniyas itself is divided into two sections, Baniyas West and Baniyas East, with its affordable studios up to three-bedroomed apartments as well as villas home to a combination of expat and Emirati families. Parking spaces are easily found, and residents are allocated free spots close by their apartment buildings or villas. Also in the area are retail stores, schools, hospitals, gyms and sports clubs as well as several popular shopping malls including Lulu Hypermarket and Baniyas Mall.
For expat sports fans, the area hosts its own Sports and Culture Club, with its complex home to the local football team, and commuting to the heart of the city is easy via plentiful taxis or the public bus service. According to one long-term expat resident, the area's peace and quiet as well as its many public parks and playgrounds make it perfect for families. Local stores, restaurants and hypermarkets are everywhere, and Baniyas is now considered as the perfect, inexpensive location for expats working in Abu Dhabi's city centre.