Highly qualified Ukrainian graduates desperate to work abroad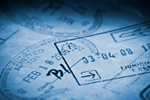 A recent survey has revealed that almost all highly qualified young Ukranian professionals have considered or are in the planning stages of emigrating overseas in search of work.
Over 5.000 young professionals took part in the November survey, with 91 per cent of respondees admitting a desire to emigrate in order to further their careers. The average age of those surveyed was 30 years, with 77 per cent having completed a university education and two per cent gaining masters' degrees in their chosen subject.
The majority of those surveyed worked in the financial, technical and humanitarian sectors, and gave the Ukraine's economic and political problems as their main reasons for leaving the country. Most stated that they saw no future for themselves or their families due to the country's low wage structure, lack of career advancement opportunities and unstable political situation.
Just under half those surveyed had strong intentions to emigrate, with almost as many saying they regularly considered the possibility. Only four per cent stated they would stay in the Ukraine, citing the possibility of being treated as second class in a new country as the main reason for their reluctance to leave.
Other European destinations were the favourites with 63 per cent of the respondents, with the US and Canada coming second at 42 per cent. Australia was chosen by 20 per cent, and 14 per cent said they would opt for Russia. Better living conditions in any country drew 16 per cent of those surveyed, with Asia, South America and even Africa preferred over the Ukraine.
The country's former Minister for Economy, Volodymyr Lanovy, agrees that the present unemployment situation is encouraging highly skilled young people to consider leaving. He believes the creation of SMEs at all levels would help the situation, giving self-employment opportunities supported by initial tax relief and government start-up grants to young, unemployed professionals, especially in the high-tech field.