Australians and New Zealanders leave UK for better job opportunities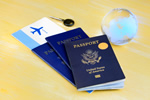 As the economy in Britain continues to struggle a large number of expats who arrived in the country from New Zealand and Australia are returning home to look for better job opportunities. Whereas the number of jobs available down under has hit the highest level in eight years, the situation in the UK is almost the opposite.
Research conducted by jobs website, Track Me Back, shows that the single biggest reason for people returning home to New Zealand and Australia is the doom and gloom surrounding the UK economy.
General manager of the site, Caroline Rafferty, said many of the people now returning home left a decade ago with a backpack imagining they would only be gone for a few months. Now they are coming home with their families because the job prospects have vastly improved and the economic outlook is healthy. She added that many felt that they would be able to progress further in their careers if they came home.
According to Home Office statistics, the number of New Zealanders coming to the UK for a job has dropped by 40 per cent over the last three years and the number coming over from Australia is down by 35 per cent over the same period.
In 2007 8,490 New Zealanders were welcomed to the UK for employment. That figure had dropped to 5,210 by 2010. The figure for Australians entering the UK for a job has fallen from 26,500 in 2007 to 17,100 in 2010.