Ministers to make it easier for foreign students to come to the UK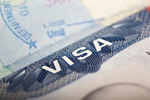 Ministers in the UK are considering relaxing the immigration rules for foreign students in order to attract more of them to British universities. By removing students coming from outside the European Union from the rules David Cameron would also be able to bring down annual immigration figures.
The government said that it aims to cut the number of people settling in the country from overseas to below 100,000 per year by the 2015 elections. The figure at the moment is a record 250,000 per year.
Damian Green, minister for immigration, rejected a call for students to be exempt from the rules last month because he feared that it would look like the government was trying to rig the figures. The Home Office has told the Prime Minister that putting a cap on the number of students allowed to enter the UK was costing £2.6 billion in lost revenue.
Although Downing Street said that there was unlikely to be an official announcement in the short term it is understood that Mr Cameron is keen for a change in policy.
The idea of students being removed from immigration figures has been tabled by a Conservative and a Labour MP. Tory Nadhim Zahawi and Labour's Paul Blomfield are looking for a cross party consensus and said that there was definitely a feeling in other countries that Britain had closed its doors in terms of offering places at it higher education institutions.