Recession stricken Portugal urges citizens to find work abroad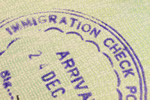 As reported by USA Today, recession-stricken Portugal is now telling citizens to seek work in former colonies, such as Brazil and Macau, where Portuguese is spoken. For nearly 600 years, the country had one of the mightiest colonial empires in Europe, controlling trade centres in South America, China and Africa.
Miguel Relvas, Minister for Parliamentary Affairs, is urging recent graduates to lead a new sort of emigration, distinct from the 1960s which saw Europe as the destination. In the last 20 years, he added, Portugal has made investments in a generation of citizens, and now the country cannot provide them with what they need: jobs.
Lisbon has admitted its inability to provide employment opportunities for the country's 700,000 jobless, especially recent graduates and teachers—many of whom have lost their jobs, or have been unable to land employment at all. Austerity measures enforced by the International Monetary Fund, the European Central Bank and the European Union with Portugal's $115 billion bailout last May have had their toll on the nation's work force.
Portugal's jobless figures reached their highest level ever during December (14%), says the Portuguese National Institute of Statistics. Discussions of another bailout have sparked fears of a potential new wave of austerity.