Options for getting your first overseas job as an expatriate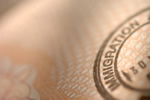 As the world gets smaller, travel is more affordable and businesses become more global, the numbers of expats living and working overseas is likely to reach over 87 million by the year 2021.
The expatriate phenomenon has soared in size as well as in its impact on the global economy over the past decade, and is expected to grow still further in the coming two years. The vast majority of would- be expats manage to move abroad to work, whether it's due to relocation from their home-based company or the desire to find a new, more rewarding job in an unfamiliar land.
Unfortunately, finding a new job overseas isn't always straightforward, and even a reassignment can lead to unforeseen problems including settling in, finding suitable accommodation, adjusting to new norms in the workplace and learning an unfamiliar language. In most cases of reassignment, international staff in the office are able to help wth visa problems, work permits and even the inevitable culture shock.
For those without an existing job in a multinational company, planning ahead is essential and starts with choosing the right country for your skill set, thus ensuring a good choice of possible employment opportunities. Finding skills gaps which fit in with your particular area of expertise is the best way forward, and calculating the cost of living in your chosen country gives an idea of how much you need to earn.
Checking on visa and work permit requirements is also an essential, and often confusing, task which may rule out several destinations you'd like to try. The processes necessary often take time to complete, with beginning well in advance of your desired travel date the only way to ensure there are no delays in your plans for departure. If you're bringing the family along, you'll need to check their visa requirements as well as the need for international private health insurance as this is now mandatory in many countries.
Since the internet age exploded across the planet, remote working has become the way forward for hundreds of thousands of would-be expats not tied to a particular job or profession. This freedom has made living and working overseas a real option which provides a living whilst allowing expats to move around where and when they please. Sectors include marketing, PR, tourism, IT, design and finance, and the internet is crammed with opportunities for digital nomads. This option gives an amazingly flexible work/life balance and the freedom to change locations whenever you wish.