Tax breaks and added perks aim at attracting City bankers to Europe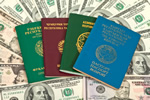 If you're a financial services professional planning to relocate to Europe either before or after Brexit, you're likely to keep more of your salary than your UK counterparts.
New analysis has shown bankers and financial services professionals will benefit from certain personal tax sweeteners after their employers have relocated to new EU hubs in order to keep their European clients post-Brexit. Up to 10,000 jobs in the industry are estimated to have been moved from the City by March next year, with more expected to follow over subsequent years.
Relocation overseas, especially when family are involved, can be a frustrating experience, but a recent Wall Street Journal report is likely to persuade doubters it's well worth the trouble. The report revealed expat financial professionals transferring to certain EU member states could benefit hugely by continental personal tax breaks. For example, expats on annual salaries of €220,000 in the Netherlands, Ireland, France, Spain or Germany, all of which have been fighting to win the City's businesses, would pay far less tax and social services charges than in the UK.
Based on the above salary level, take-home pay for workers in France would increase by €27,588 after tax, whilst a move to Spain would net €42,545. Germany offers the least advantage with a disappointing gain of just €2,500, sad news for Goldman Sachs staff moving to the Wall Street giant's new premises in Frankfurt. Tax advantages aren't the only draw aimed at encouraging the brightest and best to give up on the UK, with a number of countries offering increases in the numbers of top-drawer, bilingual international school places as well as French lessons for formerly London-based bankers as well as their families.